Optical Turnstiles
The Only Premiere Barrier Free Option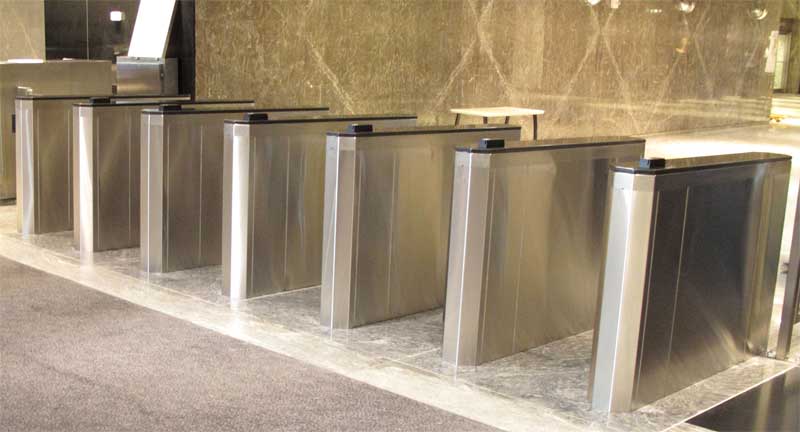 Perey Turnstiles have designed and manufactured Optical Turnstiles since 1958. We offer a wide range of models that are durable and reliable.
While turnstiles have been a part of American history for years, they're not limited to the traditional, barrier-based design. If you need more flexibility and high-security access control, we offer top of the line optical turnstiles.
Our current Optical Turnstile family includes the same beautiful and unique cabinet engineering as our tripod turnstiles. Our optical turnstiles come in many styles, including stainless steel, bronze, or painted cabinet.
Are you looking for a unique style? We customize our Optical Turnstiles to fit your needs. Custom features include marble tops, added or reduced length, customized reader mounting and customized indicator lights.
We have added a remote programming feature to our turnstile controller. They now include our new, field upgradable, "SuperController", which can be remotely programmed to meet your changing requirements without the need for a technician's visit.
All of our Optical Turnstiles are programmable to allow the following features:
Uni-Directional Operation
Bi-Directional Operation
Remote "Lockout" Of One Or Both Directions
Unauthorized Entry Alarm Local and Remote
Unauthorized Exit Alarm Local and Remote
Piggy Backing Alarm Local and Remote
Package Only Entry Alarm Local and Remote
Package Only Exit Alarm Local and Remote
Slow Travel Alarm Local and Remote
Walk Away Alarm Local and Remote
Crawl Alarm Local and Remote
Only Perey Turnstiles can offer high security and clean design in an affordable package that can't be beat.